Monday, September 30
Beverly Osu's #Bevday party continued in Abuja as Bassey, Beverly, Bimp, Angelo with Denrele stormed the city to party with friends and fans.
More pics after the cut
Sunday, September 29
President Goodluck Jonathan today answered questions from a select panel of journalists during the presidential media chat in Abuja.
Here are highlights from the media chat.
Tweets continue after the cut
Nollywood actor Jim Iyke got delivered today at Prophet TB Joshua's Synagogue Church of All Nations by Wise Man Daniel.
Wise man Daniel had laid hands on Jim Iyke and immediately, the evil spirit started manifesting, confessing through him.
The evil spirit revealed he had tormented Jim's life for so many years, confessing that it was trying to destroy Jim's life by making him stubborn, he couldn't fall in love with anyone or marry!
The evil spirit confessed that he was the biggest and that it was only God's grace that had kept him.
And the WiseMan said "Out!!! You ancestral demons out!!!! In the mighty name of Jesus!!
Jim was just wailing and crying!!
Eventually, Jim was delivered and first words out of his mouth: "Where is my shoe, mehn? Why did you take off my shoes?
More pics after the cut
Tragedy occurred at Onugba Nike area of Enugu State on August 24th, after 20-year-old Cynthia Onah, out of jealousy set ablaze another woman, 22-year old Chinwe Igwe for snatching her boyfriend, one Chika Kelechi.
According to SunNews, Chika and Chinwe who had dated each other for almost five years, had a misunderstanding and stopped dating each other.
Chika later met Cynthia, a prostitute and they started dating. But after a month of being together, they
Dear Lord, when is all this going to end?
This is terrible!!
May their souls rest in perfect peace.
Picture is courtesy ChannelsTV.
Cos Iceprince's fans think so.
Iceprince just shared this picture of himself with a man in very long dreads, saying: Inspiration is everywhere, Sundays in Abuja.
Do you see the Jonathan in this man too?

Iyanya showed off this awesome car he got to check out at a friend's house in Lagos on his Instagram page.
The italian super cool ride costs between 191,900 to 248,000 dollars.
#Swag!!
More pics below Gunmen suspected to be members of the dreaded Boko Haram sect struck Yobe State College of Agriculture in the early hours of Sunday today, killing at least 50 students of College of Agriculture, Gujba.
The bodies of the victims are currently being picked from bush and hostels, where the gunmen shot
Happy married life to Genevieve Nnaji's PR manager Vanessa Amadi who wedded her boo Oki yesterday Saturday September 28th in London.
Vanessa rocked a Vera Wang wedding gown for her big day.
See D'Banj's & Toolz's looks at the wedding after the cut
A 26- year-old man, Ikechukwu Okoro practically flogged his only son, three-year-old Chinedu to death in Ebonyi State on Sempteber 13, 2013.
According to shocked neighbours, Ikechukwu who lives with his only son woke up by 4.30 am on  the fateful day to discover that the sick boy had defecated on the bed.
In anger, he picked a cane and flogged him mercilessly until then boy gave up the ghost. Not knowing what to do afterwards, he picked up the dead boy and headed to a nearby clinic where he
A Saudi sheikh has warned women that driving could affect their ovaries and pelvises.
According to the sheikh, Sheikh Salah al-Luhaydan, women's health is at risk if they get behind the wheel. He told a Saudi news website sabq.org:
'[Driving] could have a reverse physiological impact. Physiological science and functional medicine studied this side [and found] that it automatically affects ovaries and rolls up the pelvis.
This is why we find for women who continuously drive cars their children are born with
Who wore it better? *lmao*
Amazing Nollywood gets Nkem Owoh and Funke Akindele to play as kids. This movie would be so hilarious!
Awwwwww.
Close your eyes if you have gone to church this morning. *lol*
Melvin made it back in time for the party.
Angelo got to share with the fans that showed up for the party how much he cares, loves, cherishes Beverly.
More pics after the cut
No fewer than 42 people were on Friday drowned in a boat mishap on River Niger close to Malilli village in Borgu Local Government Area of Niger.
The boat which had over 150 passengers instead of 60 which is the boat's capacity, capsized midway and drowned the passengers. 
The passengers were traders returning from Malili village after the day's market.
Local divers from Malili village have so far recovered 42 corpses, while efforts are being intensified to rescue possible survivors or the corpses of those drowned.
The Secretary to the State Government, Alhaji Saidu Ndako, confirming the boat mishap, said:
``I received the information late in the night that a boat had capsized and 42 persons have drowned in the incident, while rescue operation is ongoing.
We believe that the boat was overload because the boat's capacity was put at 60 passengers, but over 150 passengers were said to be on board during the incident.``The debris in the swollen river may also have been responsible for the incident,''
Ndako said that the government condoled with the family of those who had lost their loved ones, and pray that Allah grant them the fortitude to bear the irreparable loss.
Saturday, September 28
MTN Project Fame contestant Olawale Ojo has just beaten five other contestants to emerge this season's winner!
Big congrats to him.
MTN Project Fame producers had increased the prizes for this season from N5m (instead of N2.5m) plus an SUV and a recording contract for the winner,
the 1st runner up will get N3m (instead of N1.5m) plus a 2013 sedan car,
the 2nd runner up will get N2m (instead of N1m) and a saloon car,
the 3rd runner up gets N2m cash (instead of N1m).
Immaculate turned out to be the first runner-up.
With Margaret as Second runner up
Third runner up – Niniola
Fourth runner up – Omolayo
Fifth runner up – Roland
Would you lie about your age in order to improve your odds with the opposite sex?
I'm 34 but have been told I look around 27. I dress well, work out, good looking.
I'm pretty honest and it seems it turns back and bites me in the azz. Cos most of the guys I meet and would love to date are usually within my age bracket.
Unfortunately, they want to date younger girls. Some of them, when I tell them my real age, feel intimidated or that I'm too old.
Would you recommend I lie about my age from now on?
Miss Philippines Megan Lynne Young (born February 27, 1990) is the winner of Miss World 2013 Beauty Pageant.
Megan Young, before her crowning as Miss World actually made it to 3 of the 5 challenges in the Miss World competition.
She won the Top Model challenge with her poise and regal walk, while she placed 5th in the Beach Fashion challenge and 4th in the Multimedia challenge.
Big congrats to her!
Miss Ghana was the 2nd runner up, Miss France first runner up.
Osita Iheme isn't trying so hard not to laugh, right? ...hehee....
Picture is from their shoot for the Presidential Flood Victims campaign.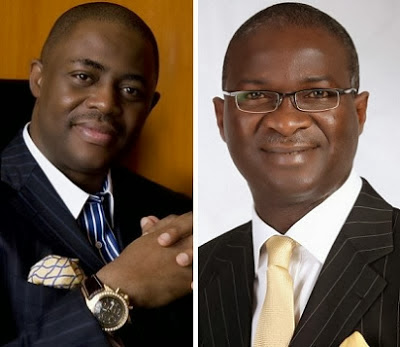 There can be little doubt that the relocation of the 19 Igbo destitutes from Lagos state a few months ago was a lawful exercise and that it was done in the interest of Lagos State. 
Consequently I do not believe that Governor Babatunde Raji Fashola ought to have tendered any form of apology whatsoever to the Igbo for what he did.  
The only redeeming factor is the fact that the apology was obviously designed simply to calm frayed nerves and I commend Fashola for that gesture if nothing else. I say this because my understanding is that he apologized NOT for the deportation itself but for
In an interview with the Nigerian Tribune, Banky W talked about his relationship status, and his take about being placed 10th as Bankable African artistes.
Excerpts below:
What have you been up to recently?
I've been working hard, pretty much. On the music side, I've been working on collaborations with different artistes.
I've recently completed really good songs for Black Magic, Sarkodie, MoCheddah, Lynxxx, Ketchup, Victoria Kimani and Vector.
Internally (within EME), I'm contributing to Wizkid's album, as well as projects for Skales, ShayDee and Niyola. Outside of all this, I've been giving speeches at various events, as well as working on a couple of potentially great movie projects.
Is Banky in a relationship?